Are you using Outlook, Gmail, Yahoo or Thunderbird? Do not change anything! Send every email that you want to have in the CRM to a special email address. Resend any important emails (in a bcc) that you want to store in the CRM and they will automatically transfer into your CRM and file them in the right place.
Your special Email address
Your special email address composes of your CRM name with the "@mailmeto.raynetcrm.com" domain. The e-mail address name could look like this:
mycompany@mailmeto.raynetcrm.com
Outgoing emails
Enter your special email address to the blind carbon copy when writing an email to your client. The email will be copied to the RAYNET CRM and filed to the correct account and contact. (You can recognize it by the e-mail address to which you send your message).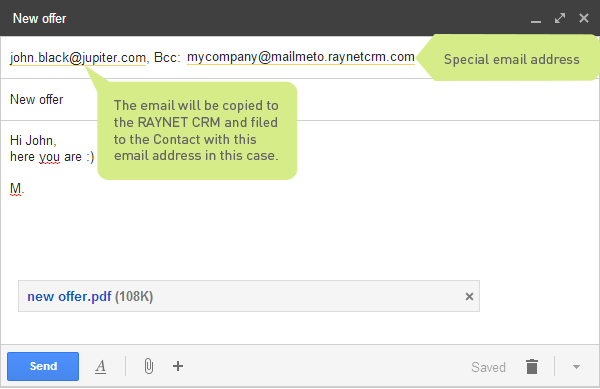 Incoming emails
Resend the email you have received as an attachment (FW) to the same address. If you are using Gmail, you can simply forward the email (FW).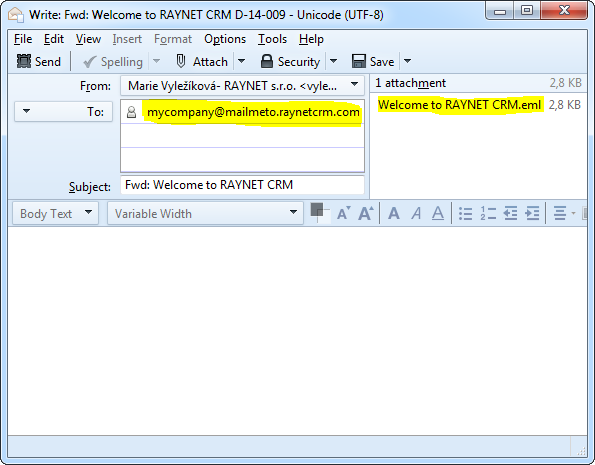 Send emails to a specific Business deal, Quote etc.
Enter the record code anywhere in the email subject to file an email to a specific Business deal, Quote or Project. For an example, see the picture below: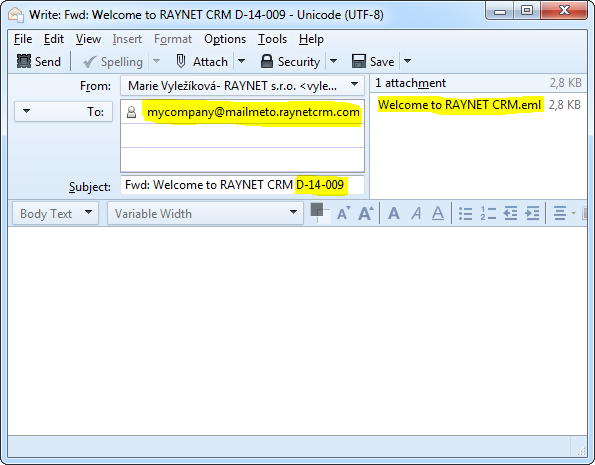 For further information concerning the email transfer to a specific Business deal see File an email to a Business deal.
Warning
E-mails will only be transferred if you forward them from the e-mail address that you use to access your RAYNET CRM or from an alternative email which can be set in your personal profile.
Find out more in How to send emails from different email addresses to RAYNET.