You can easily synchronize your CRM calendar with your Google calendar. The synchronization is two-way which means:
that activities can be modified not only in the RAYNET CRM but also in Google calendar.
that you can create activities in Google calendar and you can relate them to selected contacts or business deals.
How does it work you can find in a short video. If you prefer static images continue below.
Synchronization setup
Click on your name in the upper right corner.

Click the Google calendar option in the right menu.
Click the Synchronize button to activate synchronization.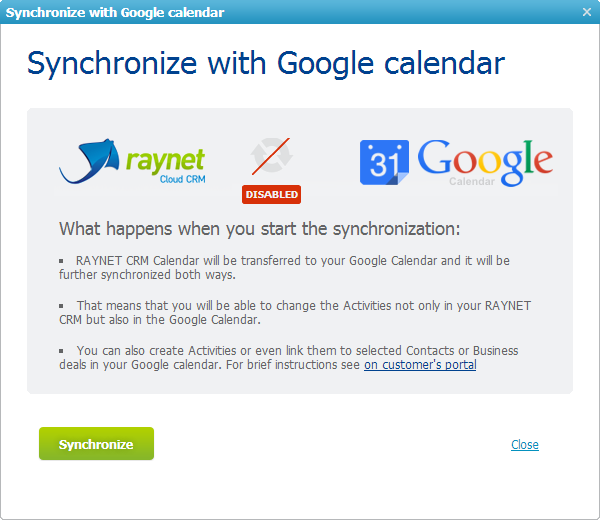 If you have more than one Google account, select the one which you want to synchronize with the CRM.
Confirm the synchronization request by clicking the Accept button.
A dialogue window will inform you about successful synchronization.

When you synchronize for the first time, the data transfer from the CRM to Google calendar can take longer (depending on the number of activities being synchronized).
Google calendar Update can be done by clicking the CTRL + R key combination.
In case you wish to cancel synchronization, click the Disable synchronization option.