Create Recurrence
Do you have regular meetings, phone calls or appointments? You can Create Recurrence for each Activity and set an interval in which the Activity should repeat in the CRM.
You do not have to create a new Activity separately for each date. You can easily set not only an interval for repetitions but also their number or a date when the Activity should end.
As soon as the repetition for an Activity is set, a copy is automatically created in the set intervals in the CRM.
The copies can be further edited separately or all at once (you will be asked by the CRM about whether you want to make the changes only in one Activity or in all at once).
Activity repetition can be easily cancelled by clicking the Delete repetition option, all copies of the original Activity will be deleted.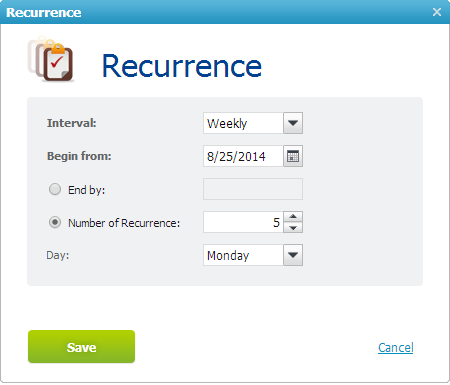 Set Reminder
You can set the Reminder time of when the notifications from the CRM will be sent to you at each Activity.
In the Calendar settings you can set an automatic starting time reminder for all created Activities.
The reminder of an Activity can be sent to you via e-mail, direct notification in the CRM or both at once.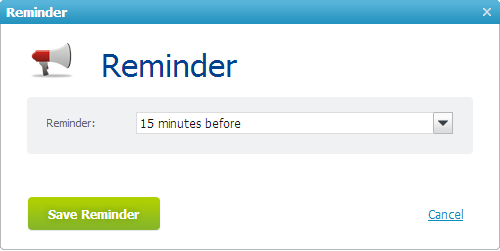 Duplicate
You can create a new Activity record with the same information by clicking the Duplicate option. You can modify the duplicated Activity at your will.
Complete
By executing the Complete action, you will change the Activity status to Completed. You can use this function with completed tasks, meetings or e-mails. A time and date of completion will be automatically filled in to the Activity. Completed and uncompleted Activities can be easily recognized in the Calendar.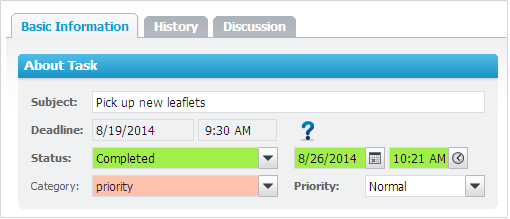 Export
The Export button saves any Activity record in PDF format on your computer.
Security
By clicking the Security option, you will open a window with Activity system information. Here you can find information about who created (or edited) the record and when, or what the record validity is.
Only the users with special permission can view the records. You can lock any record that you have permission to access and prevent other users from editing it. The record can be unlocked by you or an administrator.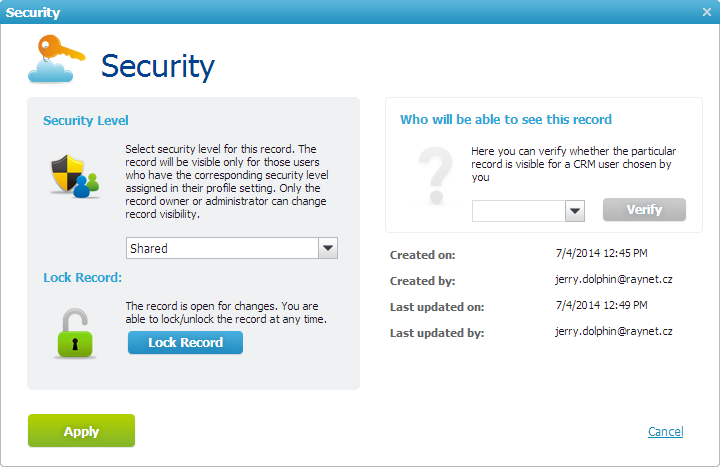 Refresh
Multiple users can be working with a record at once. By clicking the Refresh button you will view the current Activity record including the changes made by other users.
Delete
Activity information will be permanently removed from the CRM.