You can limit the visibility of particular records (accounts, business deals, meetings etc.) for a particular users group via security levels.
If you have any sensitive records that you want to share only with certain users in the CRM, you can simply set a corresponding security level to them. Then you can set the same security level for the selected users. Only the group of selected users can view the record like this.
Example:
The user Richard has the security level set to Deal. He can set this security level to any record. The record marked with the Deal level can only be viewed by Richard and by the users who have been given this security level by an administrator.
For a better idea about how security levels work, see the diagram below.

Security Level Settings
The security levels can only be set by an administrator.
Click the Setting option to create a new security level.
Select the Security Levels option from the left menu.
Type in a name of the new security level and click on Add.
Click on the newly created security level.
Select another user who will gain the access to the Business security level records by double clicking and confirm your choice by clicking Select and Close button.
Open the record for which you want to set a security level and click the Action - Security button.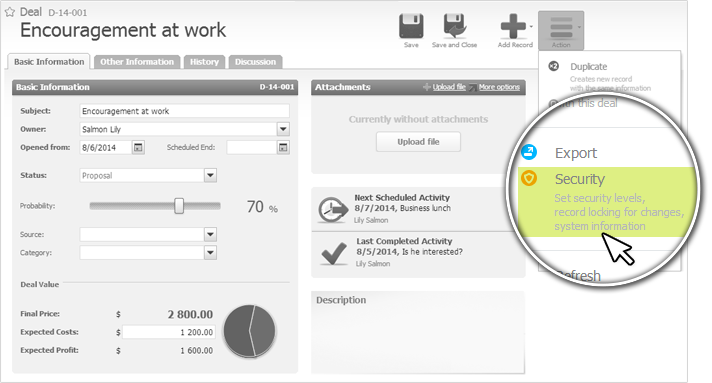 Select a security level and confirm by clicking the Apply button.
The record has Business security level now.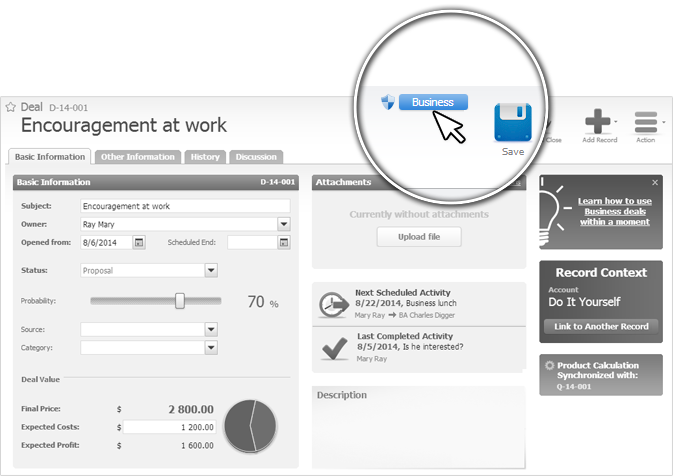 In the security settings, you can further set: