Automations are enabled by default for all CRM account administrators. The administrator can find this feature by clicking their name in the top right corner » Automations. The administrator is authorized to enable or disable this feature in Automation Settings.
Access automation settings by clicking your name » Settings » Add-ons » General » Automations.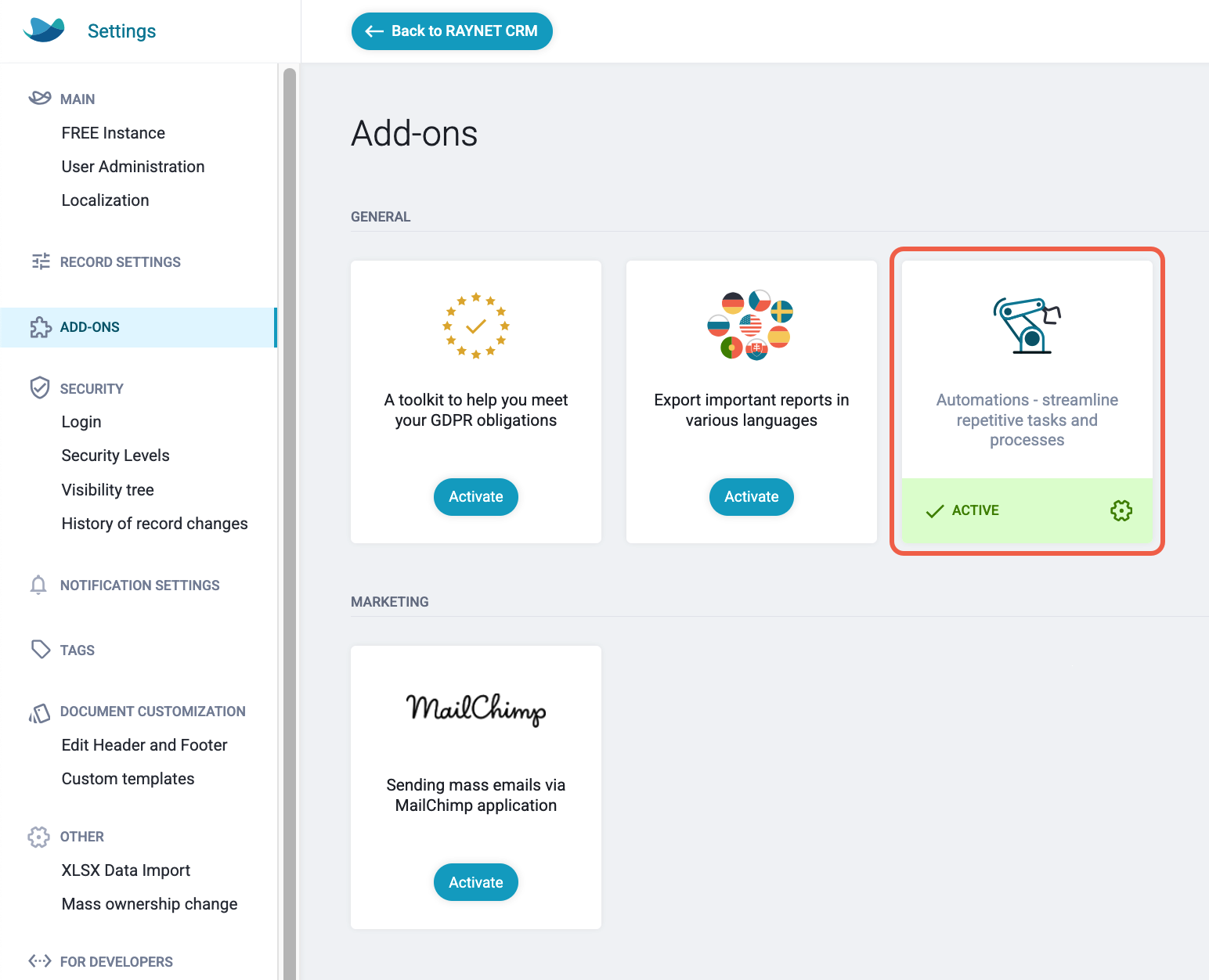 You can find the plan pricing in automation settings.
In the trial version of Raynet, we offer 50 automation runs free of charge in the START plan. After upgrading to the pro version, you have a total of 50 automation runs per month in the START plan. A run is defined as any automation execution in which at least one action is successfully performed, e.g., creating a new record, sending a notification, etc.
Other plans with a higher number of runs are subject to a fee according to the price list.
Plan activation
Depending on the plan you choose, you have a certain number of automation runs each month.
The plan can be increased or decreased at any time. After switching the plan, the payment will be included in the next invoice. For monthly subscriptions, the outstanding balance will be added to the next month's subscription. For annual subscriptions, an invoice will be issued directly.
If you are increasing the number of runs, then the difference in the number of runs of the two plans is divided by the number of days until the end of the monthly subscription or the number of full months (for annual subscriptions) and multiplied by the difference in price. The difference in the price of the plans is added up.
If you decrease the number of runs, the plan will be decreased from the next billing month. For monthly subscriptions by days and for annual subscriptions by months. Unused runs do not carry over to the next period.
If the highest plan is set to allow exceeding the run limit, then the price increase (+$3/€3) is charged after each new thousand begins (each new thousand of runs is billed in full, i.e., 1001 ~ 2000).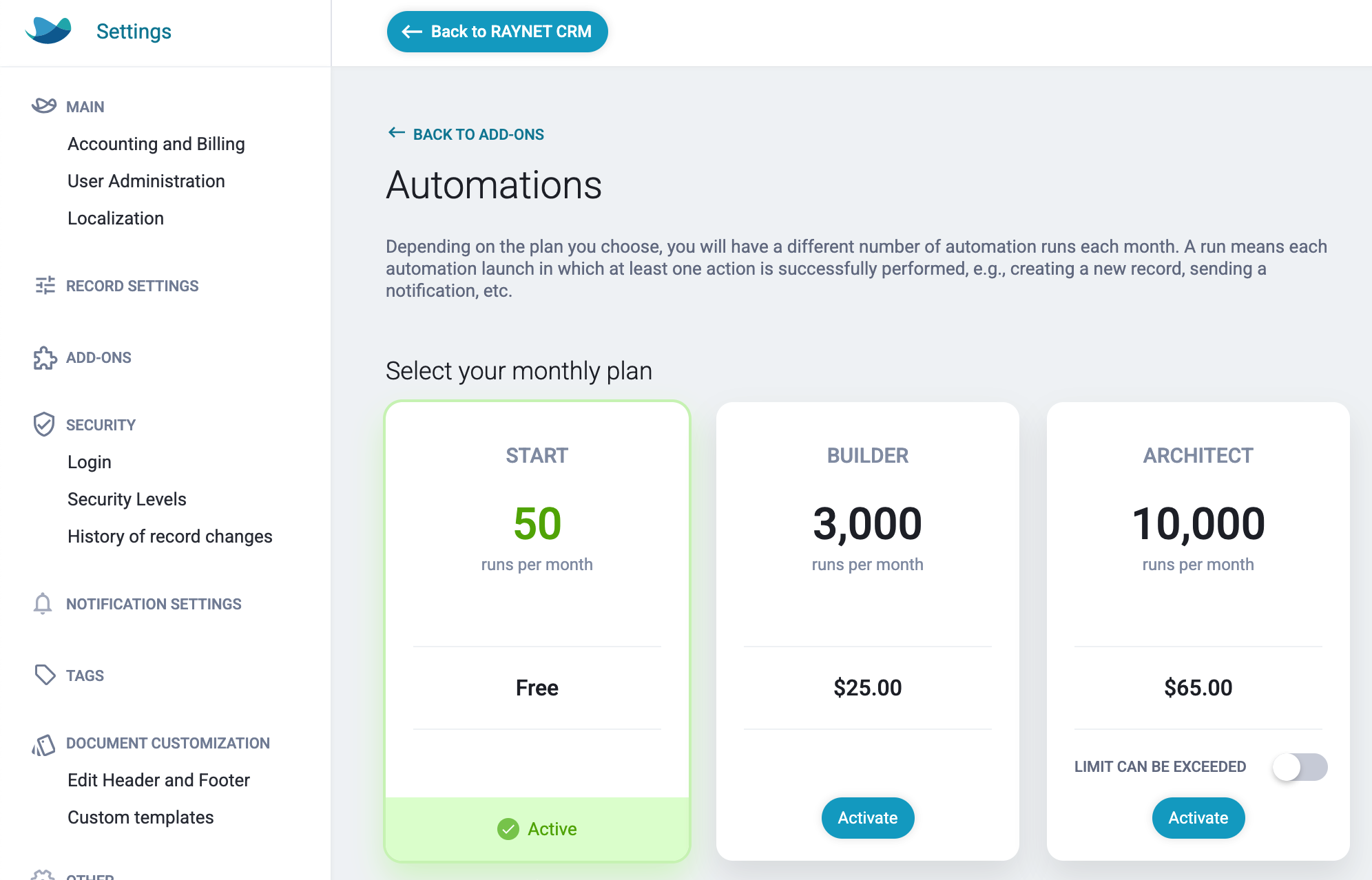 Permission to create automations
An administrator can grant other users (except users with the Readonly role) the permission to create automations. Users with this permission can edit automations in any way, even if the user permissions are restricted.
An administrator can set these permissions in Settings » Add-ons » Automations » Edit settings » Users with permission to create automations » Add User.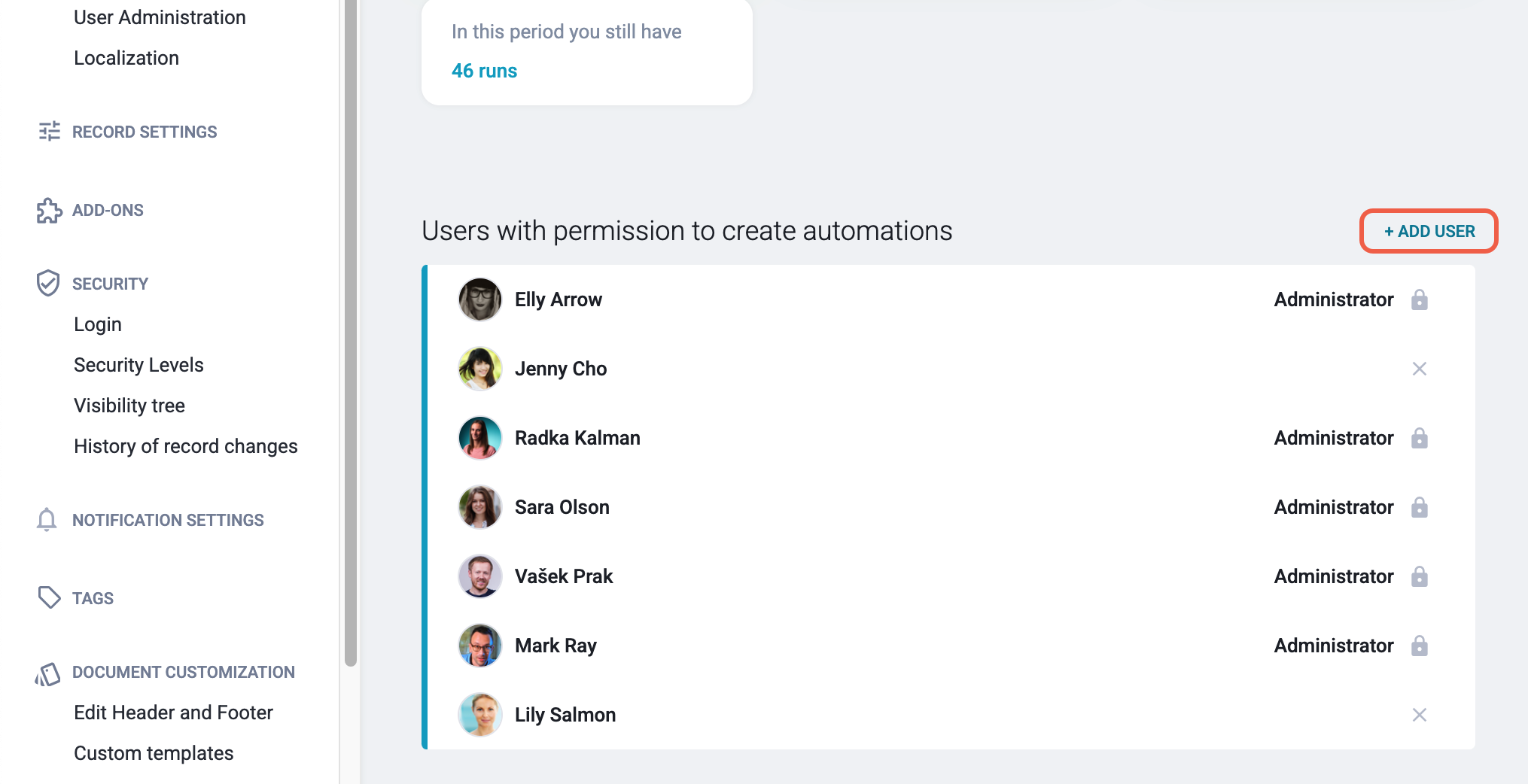 History of automation runs
In the History of automation runs, you will find the history of all automations for the last 12 months. Deleted automations are not included in the History.